Struwwelpeterpfad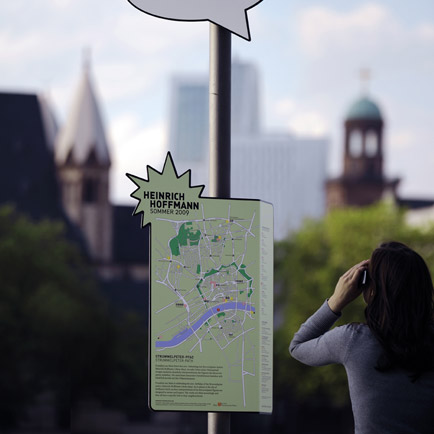 Struwwelpeterpfad
The task assignment of this project was to interpret the ten stories of the "Struwwelpeter"and to design corresponding installations. On the occasion of the 200th birthday of the author Heinrich Hoffmann (1809-1894), Frankfurt am Main is celebrating the "Hoffmann Sommer". As his home town, Frankfurt intense to attract the attention of residents and visitors with modern interpretations of the "Struwwelpeter" stories in urban public spaces. The installations are titled after the protagonists and refer, with regard to content, to the respective place of presentation.

In collaboration with Kathrin Schumacher und Isabell Anhalt
client: Kulturamt Frankfurt am Main
All photographs by Eibe Sönneke.